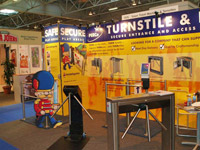 Our British partner, Directional Data Systems, took part in Leisure Industry Week (www.liw.co.uk), the Europe?s biggest show for operators from every sector of the leisure industry — from activity centres to zoos, museums and heritage sites to theme parks, fitness, health, spa or family attractions centres to hotels, sport and wet leisure facilities, that was held in Birmingham from September 25 through 27.
LIW 2007 is the strategically designed, conveniently located and perfectly timed platform for top international supplies to sell, market and promote their latest products, ideas, innovations, services and technologies to thousands of senior decisions-makers from the out-of-home leisure market. And this year?s show, attracting more than 459 exhibitors and thousands of visitors, became the biggest LIW in over decade.
A great deal of attention was focused on security, in particular access and entrance control solutions. Directional Data Systems were presenting PERCo tripod turnstiles, swing gates, and railing systems as well as their own ticketing systems and the Kiddigate — an original entrance control solution for children play areas, family entertainment centres, etc. based on PERCo WHD-04 swing gate.
«Team is just back from LIW, it was a good show. We have to do the prospect debrief yet but plenty of interest was shown in PERCo products. Besides lots of inquiries to attend to later, we took one order immediately on the stand, another same this morning. It has paid we took our preparations seriously, placing advertisement in specialised media. In fact, some guests arrived on the stand actually clutching the ad and saying, «I want to see this!» We all are very happy with the show and will start to get back to enquiries immediately», said Michael Harris, the DDS?s Sales Manager.