15.04.2008
News from Scotland: PERCo gates installed at Culloden Battlefield Memorial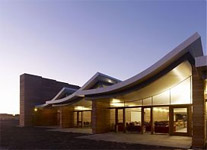 Access control products by PERCo were installed at the Culloden Battlefield Memorial Centre, which is to officially open its doors after a major refurbishment on the 16 April — the 262nd anniversary of the battle.
This is a very prestige historically important site in the north of Scotland near Inverness, the administrative centre for the Highland council area and the unofficial capital of the Highlands of Scotland.
Culloden battlefield is a major tourist attraction under the care of the National Trust for Scotland who employed our British partners, Directional Data Systems, to take part in the renovation works as big suppliers for ticketing equipment and access control providers.
Says Michael Harris, the DDS head of sales: «We were asked to look and advise on the entire ticketing and guest access control situation. I went up there for a site visit and spent the entire day with the project management team. We put forward what we consider to be a very good solution. It´s a very interesting job and real honour to be a part of this project».