05.02.2009
News from Bilbao: PERCo turnstiles installed at new Deusto University library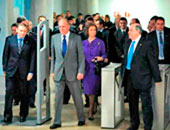 PERCo box tripod turnstiles have been installed at the new library of the Deusto University in Bilbao, the largest city in the Basque Country in northern Spain and the capital of the province of Biscay.
The installation and service are carried out by Sistemas Byaccess, S.L., our distributor in Spain.
The official opening ceremony of the University Library-RCLR (Resource Centre for Learning and Research) was held on January 27. The gala event was honoured by the presence of the Head of State of Spain, HM The King Juan Carlos I and HM The Queen Sofia, the Mayor of Bilbao, the President of Basque Parliament as well as over 200 official persons representing the Basque Country.