30.11.2009
Exhibition news: Sigitech shows PERCo turnstiles at CPSE in Shenzhen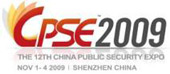 The 12th China Public Security Expo 2009, the largest and the most influential security trade show in China, was held in Shenzhen from November 1 through 4.
With the total area of 90,000 sq. m to host more than 4 thousands exhibiting companies, CPSE is listed as one of the three largest international trade shows, alongside with ISC in the US and IFSEC in the UK. The number of visitors this year exceeded 50 thousand people.
Sigitech Science&Technology Co., Ltd., our new sales partner in China, took part in the exhibition with access control products by major international brands including PERCo. According to Sigitech, attended by many security specialists the stand was a success. The TTD-03.1 box tripod, the RTD-03S rotor turnstile and the recently launched T-5 tripod turnstile presented at the Sigitech stand, received a great deal of professional interest from the visitors.
Sigitech Science&Technology Co., Ltd is a leading Chinese reseller of access control equipment, specializing generally in quality Europe-made products. This year Sigitech included the complete range of PERCo turnstiles and gates into their portfolio.