22.05.2013
IFSEC 2013: summary
PERCo showcased its high-tech security solutions, such as IP-Stiles and new models of turnstiles and gates, at IFSEC 2013 International Exhibition (Birmingham, the UK).
The exhibition was held on May, 13-16 with representatives of more than 700 companies from 100 countries. According to the organizer's information, there were more than 20 000 visitors at the exhibition.
PERCo booth was visited by more than 600 security professionals from Europe, Middle East, South Asia and North Africa. Among them there were representatives of new companies, as well as our long-term clients from the UK, Sweden, Belgium, Iceland, Ireland, Romania and Morocco.
Much attention was received by PERCo new models – compact and box tripods with automatic anti-panic function. The most popular was the new PERCo-TTR-08 turnstile, which fully complies with European market preferences: stainless steel housing, elegant design, automatic anti-panic arms and outdoor application.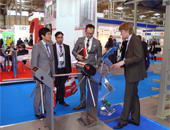 Visitors were also interested in such new products as an automatic gate with glass panel and a reader post.
Besides our booth, PERCo products were traditionally exhibited at the booth of Directional Data Systems, our long-standing partner from Scotland. Representatives of the company highly appreciated the cooperation with PERCo and high quality of production, including electronics and surface treatment and packing.
It was agreed to supply a large amount of PERCo-TB01А, the new box turnstiles with automatic anti-panic function, to the UK.