KT-05/KT-05A IP-Stile
| | |
| --- | --- |
| KT-05A | KT-05 |
| | |
| Automatic anti-panic | Mechanical anti-panic |
Application
The KT-05 IP-Stile - is a turn-key access control solution based on a box tripod turnstile with built-in controller and proximity card readers and as standard supplied with single-user software.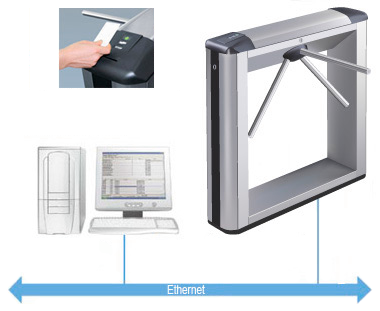 Built-in card readers
Software
IP-Stile housing
These elegant IP-Stiles made of stainless steel will perfectly fit modern interiors of business centers, banks and other public facilities.
Delivery set
Standard delivery set of the KT-05 IP-Stile includes:
turnstile with built-in controller and two proximity card readers (HID/EMM)
remote control panel
free single-user software SL-01
standard/anti-panic barrier arms (the type is chosen by a Client at the time of order)
To install the KT-05 IP-Stile just fix the turnstile housing to the floor with anchor bolts, connect it to the power supply and to Ethernet.
Features & Benefits
The IP-Stile can be operated as a stand-alone unit - controlled from the remote control panel or wireless remote control, as well as an element of an ACS - controlled from the built-in readers (at presentation of access cards at them) or from the PC at connection to LAN over Ethernet.
Proximity card readers are built-in under indication modules located on front panels of the turnstile top cover. Indication modules have 3 mnemonic indicators: green indicator of authorized passage, yellow indicator: card presentation is expected, red indicator of ban on passage.
| | |
| --- | --- |
| | |
| SL-01 software. Event list screenshot | SL-02 software. Video identification screenshot |
Installation of the optional SL-02 software with video identification enables to prevent unauthorized use of valid ID cards that have been lost, stolen or otherwise improperly obtained. When a card is presented to the card reader, the cardholder's photo from the database appears on the guard's PC screen. Then the guard can check the entrant's face against the database photo/video camera snapshot and decide whether to allow the access or not.
For optimum control of pedestrian flow, the KT-05 IP-Stile can be supplied with matching railings.
A built-in mechanical release lock enables manual unlocking of the turnstile with a key resulting in free rotation of the barrier arms in both passage directions.
The IP-Stile can optionally be equipped with anti-panic folding arms.
| | |
| --- | --- |
| | |
| Key override control | Anti-panic folding arms |
Technical Specifications
Operating voltage
12 ± 1.2V DC
Overall dimensions with barrier arms installed
1050×684×1030 mm
Throughput rate (in the single passage mode)
30 persons/min
Throughput rate (in the free passage mode)
60 persons/min
Passage width
500 mm
Controller buffer capacity:

up to 50,000 cards

up to 135,000 events

Number of readers (HID/EMM)
2
Reading distance


8 cm
6 cm
Directions controlled
Bidirectional
Interface standard
Ethernet
Operating temperature range
from +1 °C to +40 °C